By Rick Banas of BMA Management, Ltd.
Like all great fairy tales, the lessons from "The Wizard of Oz" are not limited to children. They are universal.
I mention the "Wizard of Oz" today because the MGM (currently Warner Bros) movie starring Judy Garland as Dorothy Gale premiered on this day back in 1939. The movie was one of the many adaptations of the book "The Wizard of Oz: An American Fairy Tale" written by L. Frank Baum in 1899 and published in September 1900.
Growing up, watching the movie on television was an annual event. It wasn't until we were visiting our oldest daughter in Costa Rica a couple of years ago that I finally read the book.
Given my sense of humor, I loved when I read about the Wizard concocting a bran cereal mixture, placing the mixture into the Scarecrow's head and then declaring that he has a "bran-new" brain.
The movie is filled with so many wonderful visual effects, songs and memorable lines. Who can forget "Somewhere, Over the Rainbow;" "Follow the Yellow Brick Road;" "We're Off to See the Wizard'" "Lions and Tigers and Bears, Oh My;" "I'm Melting;" "Ding Dong the Witch is Dead;" and the last line of the movie "There's No Place Like Home." To listen to a music playlist, click here.
The movie also is filled with a variety of messages about life, some of which are learned the easy way and others only after a crisis or a scare.
Early on in the movie Dorothy learns in fairly easy fashion that you cannot run away from your problems. Right after Miss Gulch storms into Dorothy's home, calling Toto a menace and threatening to take the dog to the sheriff to have him destroyed, Dorothy takes off. She, however, has the good fortune of running into Professor Marvel, a fortune teller who helps Dorothy understand how hurt Auntie Em would be if Dorothy ran away.
The other messages, however, only come after Dorothy is knocked unconscious by a tornado and after Dorothy, the Scarecrow, the Tin Man and the Lion overcome Flying Monkeys and the Wicked Witch.
Through all of her adventures, Dorothy discovers that everything that she could ever have wanted was right there in her own backyard.
Through the Wizard, Dorothy's friends – the Scarecrow, Tin Man and Lion – realize that the qualities that they have been seeking were always right there within themselves.
As the rock band America so appropriately notes in its song "Tin Man," "Oz never did give nothing to the Tin Man that he didn't already have."
The Lion also learned that he was confusing COURAGE with WISDOM. As The Wizard pointed out, "under certain circumstances, it is acceptable to be afraid."
While Dorothy learned that running away from problems doesn't solve anything, the Lion discovered that running away from danger doesn't mean you lack courage.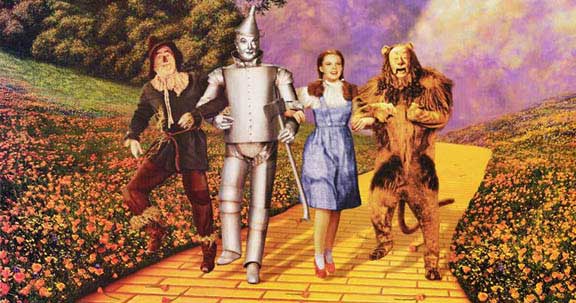 Sadly, what I see all too often in working with older adults and their families is that it takes a crisis or a scare to open up their eyes to wisdom of assisted living.
I recall one couple who kept putting off making a move, despite pleas from their family. Like so many other older adults, they wanted to live in their house forever.
Then, one day, a family member called hoping that Mom and Dad could move in as quickly as possible. Mom had taken a tumble in the bathroom and was in the hospital. Dad, in trying to help Mom, managed to flood the room and cut his hand so badly that he was in the Emergency Room, getting stitches.
Fortunately, we had an apartment available and assisted living still was appropriate. Often, this is not always the case. It is so hard telling someone that their health needs are now beyond what we can provide in assisted living and that a nursing home might be the only option.
What can be so hard for folks to appreciate is that while "there is no place like home," a house is not a home. As the saying goes, "home is where your heart is."
Maybe that is one of the reasons why so many folks who have lived with us for a period of time tell us that looking back their biggest regret is waiting so long to make the move to assisted living.
What are your thoughts? Leave a comment and let us know.
"BMA Management, Ltd. is the #1 provider of affordable assisted living in Illinois
and we are in the top twenty providers in the United States of America."
Follow on
Twitter
Facebook
YouTube
Google+